IBM has published this interesting application in their pressroom. This type of application with a graphical representation of the patients' body migt turn out as a very useful interface to EPR's not only for physicans. Especially interesting would be to give patients access to their own avatar and use this system in a Personal Health Record application.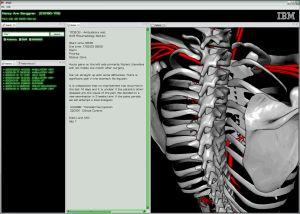 ZURICH, SWITZERLAND 26 Sep 2007: IBM researchers today unveiled a prototype visualization software that allows doctors to interact with medical data the same way they interact with their patients: by looking at the human body.
Created at IBM's Zurich Research Lab, the technology uses an avatar -- a 3D representation of the human body -- to allow doctors to visualize patient medical records in an entirely new way. Called the Anatomic and Symbolic Mapper Engine (ASME), this innovative visualization method allows a doctor to click with the computer mouse on a particular part of the avatar "body" to trigger a search of
medical records to retrieve relevant information.
"It's like Google Earth for the body," said IBM Researcher Andre Elisseeff, who leads the healthcare projects at IBM's Zurich lab. "In hopes of speeding the move toward electronic healthcare records, we've tried to make information easily accessible for healthcare providers by combining medical data with visual representation, making it as simple as possible to interact with data that can improve patient care."